2019 GMC Canyon All Terrain
Does anyone know if the 2020 oem electronic tailgate lock can be retrofitted?

Sent from my LM-G710VM using Tapatalk
I am working on sourcing all the parts from a 2020 to swap into my 2019. So far I have found the following part number with the help of @
bumbletruck,
he has a 2020 and took some pics of his interior tailgate for me. Attached is what the 2020 Colorado looks like.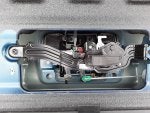 Part numbers I am able to determine needed are:
Actuator: 84665198
Harness: 84666895
Bracket: 84537762
Handle w/ camera: 84377237
I'll be ordering these parts soon and attempting a retrofit using some of the OP's info from this thread, and my own knowledge of Pop-n-lock.
Will see what happens.