For anyone who might be interested in an alternative headlight dust cap extension. This allows substantially more room than some other methods and isn't a lot of work if you have the tools and are handy.

I used my table saw with the dust cover up against the fence and just rotated the dust cover into the blade to make a nice even 3/8" cut off the dust cover top. Clean it up with a file and sand paper.
But careful use with a saws all or even hack saw may work,
Or. . . try Version 2.0 of the dust cover using 2 pair of GM Dust Covers with the top one trimmed of the lip if desired for cleaner look . . .
Also, proceed at your own risk.
I've recently started trying out some LED headlights, just because I enjoy trying out new things that I may find useful. In the process, as many know, the GM projector (and halogen high beams for that matter) have a dust cover over them. When converting to some HID and many LED H11 headlight replacements, the GM dust cover makes for a tight fit if it can be still used at all. So, I endeavored to modify the GM factory headlight dust covers to remedy this.
I wanted a decent looking outcome without spending a lot of cash. After trying various off the shelf "parts", I used the ever helpful process of "thinking outside the box".
I purchased 4 GM dust covers for about $9 ea shipped which are used on many new GM vehicles:

Part No.: 23486492 COVER ASM-HDLP BULB ACC

Access Cover - GM (23486492) | GMPartsNow
I purchased these both to have potential spares for my other vehicle or in case I needed a sacrificial prototype. . . In other words, buggered one up. But all went well and I made a couple pair. Of course, you can always just mod the ones your vehicle comes with and save $$. The only other items I needed were the "Custom Dust Cover Extensions" and some adhesive sealant to secure them to the GM dust cover after a bit of manicuring.
I initially tried some smaller diameter extensions and found it too much trouble to implement since the H11 bulb does not sit centered behind the GM dust cover. Therefore, I opted for a dust cover lobotomy and removed a good portion of it that yielded a lot of potential room. This leaves very adequate space for HID wiring/connectors, etc as well as the bulk of LED cooling apparatus be it cooling fans/fins or those braided wire strips. The pictures show an unmodified GM Dust Cover and the result after cutting off the back side (top) of the factory dust cover and then a Dremel with sanding drum to finish out the rest. It also helps to true up the plastic drain cover edge by using a sanding block or belt sander, as well as trimming some flash off of the edges and surface with a utility or Exacto blade.
Details - - -
You need to cut about 3/8" off the back side of the factory dust cover. I used my table saw with the blade up about 1" and I just rotated the factory dust cover into the blade with the dust cover open side up against the table saw fence. There should be some curve left to the dust cover after you cut the back side/top off.
Then clean up the edge with a belt sander or file and sand paper. Then trim the dust cover "ribs" down about 3/4". I put 1" blue painters tape (
see pictures at bottom of this posting
) around the outside of the dust cover for a reference to keep the trimmed rib heights the same. Use a bench grinder or Dremel to do a rough trim of the ribs and finish it with a sanding drum on a Dremel tool.
For the Drain Cap extension you will be adding, your need to "True Up" or evenly trim the edge as much as possible, but don't get carried away. The Drain Cap edge does not usually come with an even and clean factory edge. It's best to belt or block sand it with 100 grit sand paper and just to where the inner groove starts so that there is come thickness left to the edge. When you get to that point then just lightly sand the ragged flash off that edge. Then the Drain Cap will fit snugly but not too tight over the factory dust cover. Picture below - -
Finally,

scuff up the inner groove surface of the Prinsco EC03 Drain Cap where glue will be applied inside the added cap as well as the factory dust cover mating surface. Generously apply an even bead of Goop Brand adhesive about 3/8" thick into the Prinsco drain cap

inner edge groove.

Make sure to have previously scuffed up the upper rounded cut edge of the factory dust cover where the glue will mate from the Dust Cap Extension.

Then mate the two pieces and place open end face down to set and cure for 24 Hrs.
In all, the "Custom Dust Cover Extension" cost less than $2 or $3 each plus a little adhesive. I happened to have and recommend some automotive
Goop brand adhesive
which works well. It adheres well to these plastics. Some adhesives do not adhere well to thermoset plastics.
I recommend the Prinsco brand EC03 cap since I am not sure about others fit or finished appearance.
4" Corrugated Drain Tile External End Cap
.
Prinsco Corrugated End Cap (Prinsco 1841323), Drain Tiles | Home Improvement | Theisens.com
Select 4" Cap . . . not 3".
External End Cap « Prinsco, Inc
NOTE:
I need to make a disclaimer. If you do not find this useful and not your cup of tea, that is OK with me. I do not need or want negative critics. I state this because at times, things are not appreciated by some.
*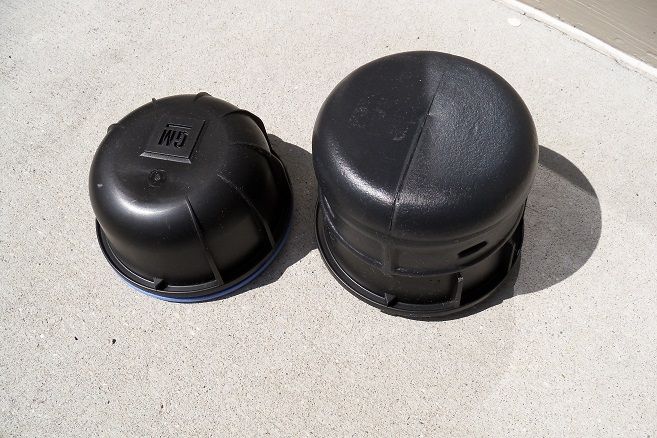 *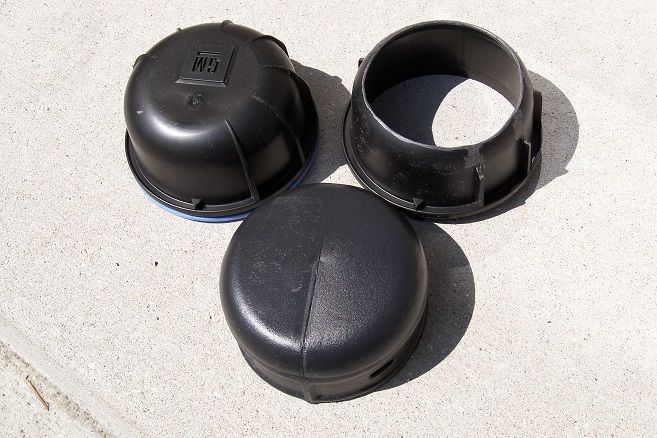 Alternative option .. . Stacked GM Dust Cover using cut off GM Cover for the top. Two Pair of GM
Part No.23486492 needed for this version.
Thanks . . . Rich's Z71 for his version of this.