Discussion Starter
•
#1
•
Well first off I was to say a big Thanks! I've been using these forums for the past month to get information on Colorados to find out what I wanted to buy and if this truck was right for me. Then of course to see what people had to say about everything from gasing up to mods. You guys are an incredibly informative crowd and have by far given me the best advantage to knowing what to choose (after I had decided on a Colly).
I found an amazing deal on an '05 Colorado LS Z85 (3.5L Automatic Ext/Cab.)
Had 30,000 Km's on it. (Km, yah I'm from Canada) and I got it for 12,000 with a year warranty left on it. I've since put $1400 into a 2 year warranty extension and replaced the rubber. Replacing the breaks this week, the last guy was a douche and obviously didn't love his Colorado like he should have.
Anyway, I haven't got to do a lot to it. My initial plans are to get some meatier rear shocks as I haul stuff around a lot, and get a K&N Air Filter. I would have done the filter already but I recently heard the oils on it can mess up the sensors on the air intake and figured I would run the information past you guys to see what turns up. After that I'd like to get front end dark transucent bug shield with the matching window things that cut down on airflow. And get some black nerf bars. Once I wear these tires down I'm probably going to get some 16's with black rims as well but that will be a while and take some serious wife prodding.
Anyhow, its great to be part of such an awesome community and I look forward to bothering you all constantly for truck information, I am a real newb when it comes to automobiles and haven't really had a vehicle worth spending time to research and learn about. I've had my Colorado a week now and completely love the thing, pretty much everytime I mention it my wife rolls her eyes with a "not this again" look. If only she knew I was just getting started
And of course here is the obligatory picture for your viewing pleasure. Nothing special here that you all haven't seen a 100 times already but hey, I only get to be new once and its like my birthday right.
I live in the Rockies in BC, Canada so I'll try and get you guys some badass shots, for now here it is in front of my place.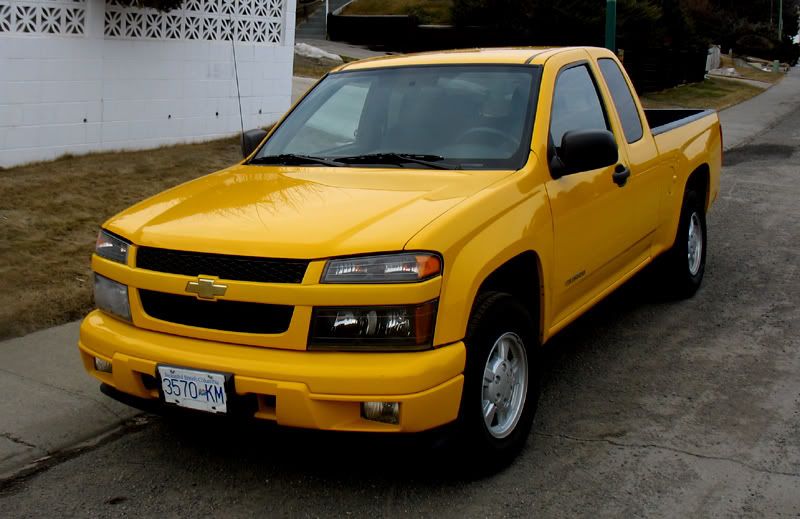 [/img]