Been meaning to post this up for a while. The title is a bit tongue in cheek; when I first started thinking about this project, I wanted to do something like the DIY Adventure Truck from viralnova with the big sliding drawers. Or set up drawers with heavy duty locking sliders. Eventually I came to realize the project I kept designing was for somebody without a full-time job and/or a decent chunk of cash laying around. My requirements were protected, out-of-sight storage in a lockable area, and being able to drop a mattress in the bed without having to re-arrange things. This is my solution as somebody with limited time and a limited budget.
Two sheets of 3/4" ACX with 3 coats of Minwax Polyshades in Bombay Mahogany. The legs of the platform are joined with simple butt joints using drywall screws top-down and Titebond III for additional strength, reinforced with Simpson Strong Tie right-angle brackets.
Full platform. I put down a 4" high density foam cut to a full size bed that fits wall to wall in the back. Very comfortable sleep surface and lots of room to stretch out. Topper is an A.R.E. MX Series. For reference, I'm 5'9" and I can sit up on the bed without my head touching the roof.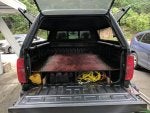 With leaves up:
Whole platform is anchored down with turnbuckles set at opposing angles to prevent 360 degree motion (scuse the mess):
I installed some flush mount ring-pulls on the leaves since they wedge in with the sidewalls and get a little tough to pull up. Pro tip for anybody doing the same - make sure you check on the ring diameter. I got a diameter measurement of 1.5" which ended up being outer diameter, so the rings are a little bit small. Probably going to add some paracord to each one. The work on some of these ended up a little sloppy because the Forstner bit I used turned out to have been dulled.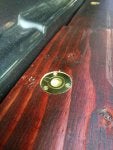 Things are organized using a 4-pack of underbed storage containers from Sterilite (got mine at Home Depot). 2 per compartment, with room in front for a tool bag (or extension cords, or...):
For those who may have noticed: I made a mistake in my measurements and factored in the bed corrugations incorrectly. I sistered on scrap lengths of the plywood so I could just get finished. It's a bit of an eyesore, but I choose to see it as 'character':
End on a good one - At dark (looking to wire up a string of the warm LED lights off a separate power source so it's a little less clinical and isn't drawing off of the engine battery)