Discussion Starter
·
#1
·
I got aggravated with the top-down storage solution in the crew cab. Having to lift the seat (and move any cargo stacked on top of it) just to get a thing or two underneath bugged me to no end. I wanted storage accessible from the sides, without being visible through the windows and largely protected with the doors locked. I was also keen to gain the extra cargo from the thickness of the seat, and gain a couple pounds in payload capacity. So this was my solution.
The shelf is 1/2" ACX ply, sealed with Minwax Polyshades Bombay Mahogany. You may notice my first-ever attempt at making dovetail joints. I'm happy to say I've done it - I'm mostly pleased with them - and I hope I never convince myself again that making dovetails by hand on plywood is a good idea. Ply is not fun with a chisel. I digress:
Side view of the storage area from the driver's side. The stuff underneath there is two small fold-out aluminum camp tables I carry as portable work surfaces:
Passenger's side view and underneath. It's nice to have enough room completely out of sight to carry a full rifle range bag. Also leaving the seat belt hardware installed makes for a decent quick tie-down strap for cargo: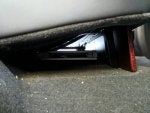 I anchored the back supports using Simpson strong-tie right-angle brackets drilled out to fit on the existing seat hardware. The front support is self-tapping screws installed top-down into the stock seat frame. I also made a cut-out for the front that is screwed into the stock seat frame to keep everything from spilling forward in a sudden stop:
I'm rolling with the setup as-is for now. My original intention was to remove both seats and replace with a full shelf/bench for maximum cargo capacity, but having the third seat has been useful. Fwiw, the bench is comfortable as a short-term option for a passenger. Next on the list is some rigid foam to cover the seat hooks so if I am carrying extra people, they can lean back without getting jabbed.
Seat removal was pretty straight forward and easy with the correct Torx bits (recommend getting a set that includes T50) and 4"+ socket wrench extensions. Probably took me about 45-1hr to get it pulled.